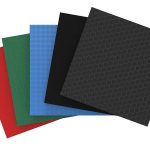 PRODUCT INFORMATION
Although black hexaboard may be the more standard finish, did you know about our flight case colour options?
As the demand for colour increases, we take a look into some of our most frequently asked questions.
---
Can you get different coloured flight cases?
Yes, you can and we offer a large range of colour choices to suit your needs.
In most instances, colour options are an excellent and often cheaper alternative for:
Matching branding of a product or an event
Enhancing cooperate identity
Help to maximise the case and use it as a marketing tool
Allowing your case to stand out during busy events or shows
Adding a personal touch to your case
Easily colour code and/or identify equipment
+ much more
For other branding options please see our Flight Case Branding Options here.
---
Does having coloured panels affect the performance of the case?
Not at all, our colour options are professionally laminated onto birch plywood boards with many options being resistant to standard use and easy to clean.
---
Which flight case colours can I choose from?
Currently, we have over 40 colours and finishes available to order. Here is a small selection of our more popular choices: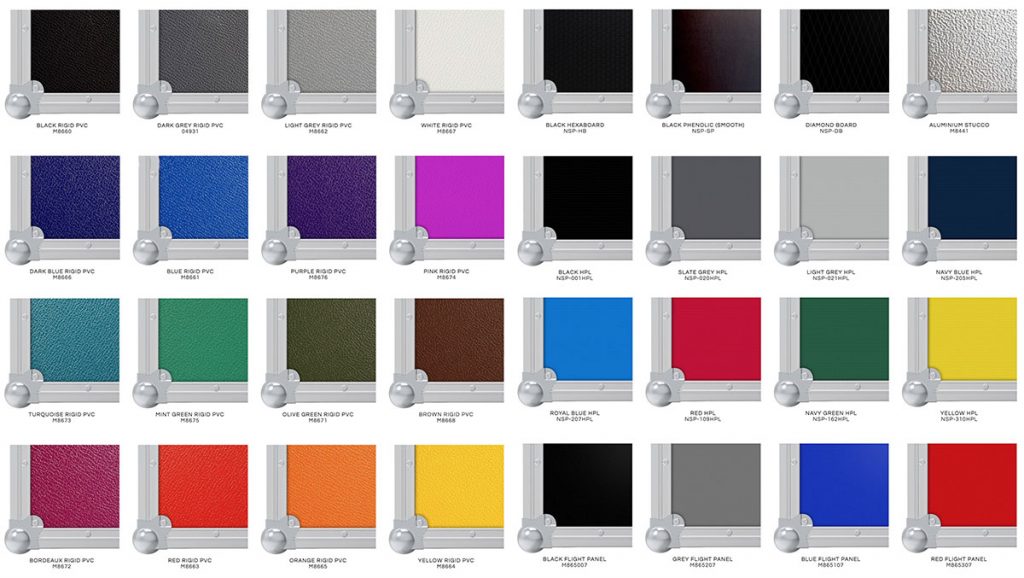 The colours provided show a representation of the colour options available and may differ slightly in person. Due to various displays and screen resolutions, the colours may vary slightly in person and for this reason, the colours shown here must be taken as a guide only. If you require a sample, please contact our team today.
---
The colour I want for my flight case is not there? Can I still have it?
Other colours are always becoming available and not all colours we have are shown here. In the event you do not see your preferred colour, it is still worth contacting a member of our team here.
Alternatively, you can send us your colour code or a colour reference so we can do our best to match it.
If your preferred colour is not available our full-colour printing may be a better option. This can be more accurate and the exact colour Pantone matched.
This may be more suitable when maintaining or working within branding guidelines.
---
Other Flight Case Colour Options?
If you're looking for only a hint of colour, some alternatives we offer include:
Dual Colourway
Colour Trim/Hardware
Coloured Lids
Wood Grain
These are great alternatives for when a full-colour case may not be necessary.
For other material options please see our Flight Case Materials & Finishes blog here which includes more information on our alternative stock finishes including Hexaboard, Lightweight Astroboard, Stucco aluminium and more.
---
Contact Us
Colour options are available on almost all our products and can be easily added to our flight cases.
For more information on our materials or to get a free quote, contact us today.
---