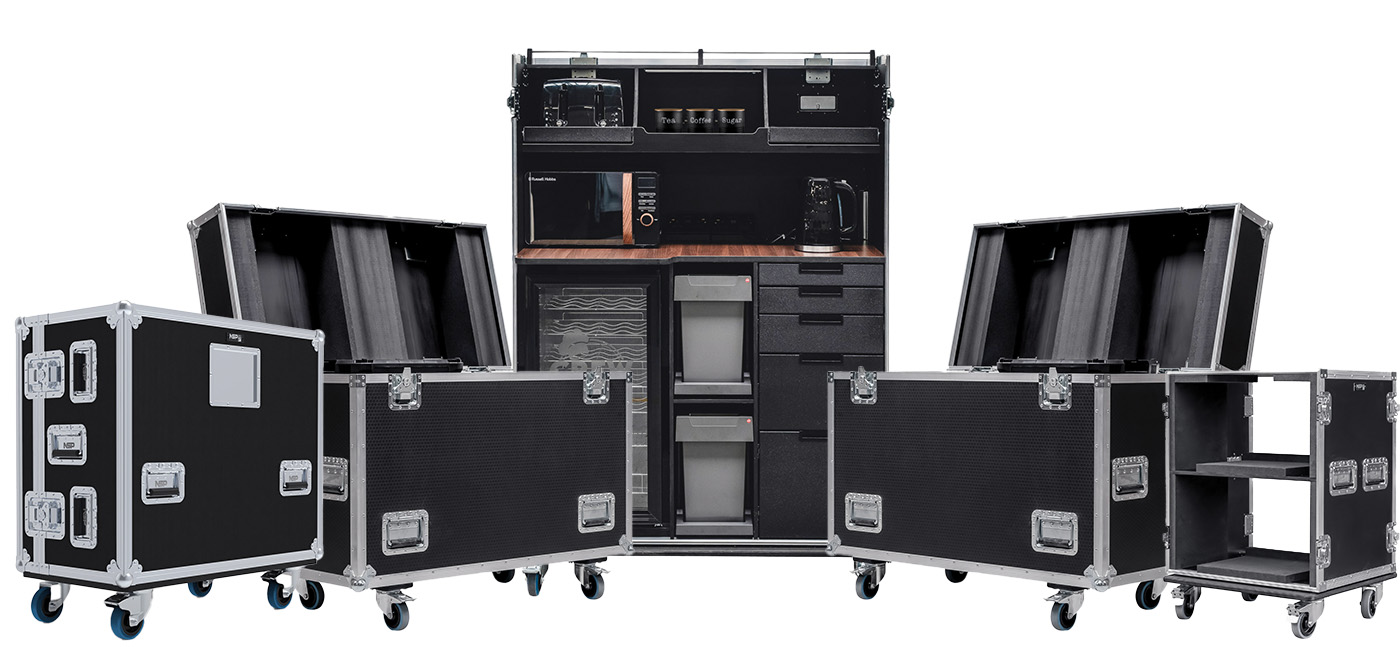 Flight Cases Manufactured in the UK - Trusted Worldwide.
Over the past 18 years, NSP Cases has grown from a small workshop building 30 cases a month to a full production facility outputting over 1,200 cases a month and growing.
We have become one of the UK's leading flight case manufacturers, catering to a diverse range of applications & providing both custom-built and pre-designed stock flight cases.
Whether you need a case for AV equipment, lighting gear, cameras, or any other specialised equipment, our dedicated team in design, sales, and production work in unison to deliver a product that meets your exact specifications.
We understand that your equipment deserves the best protection, and that's why we ensure the flight cases we manufacture are of the highest quality.
Our skilled team meticulously build each case to withstand the rigours of use, ensuring your equipment's longevity. We never compromise on the materials we use or the attention to detail we employ, because we know that our reputation hinges on delivering a product that stands the test of time.
As a result, we are fortunate enough to collaborate with some of the biggest brands in the world. Our impressive clientele includes names such as the BBC, NEP, England FC, ITV, Nespresso, and even the high-octane world of Formula 1.
Whether you're an industry veteran or a freelancer looking for your next flight cases, NSP Cases is the first choice for many.
Our expert team is always on hand to provide guidance and assistance, ensuring that you find the perfect case for your needs.
---
Flight Cases That Meet Your Demands - Finding the Right Fit
Flight cases have come a long way from being solely associated with protecting equipment during air travel.
Nowadays, they serve a multitude of purposes from storage, seamless transit between events, and even creative marketing props
Our flight cases are designed to provide ultimate versatility, ensuring they meet your unique demands beyond traditional usage.
When it comes to choosing the perfect flight cases, we offer a wide range of case types, flight case materials, custom foam and flight case branding to name a few. Our comprehensive range and knowledge ensure we can find a flight case tailored to your precise specifications.
We believe in providing flight cases that go beyond expectations. Our commitment to quality, durability, and functionality ensures that you can trust our cases to protect your equipment in any situation.
---
Custom CNC Foam Inserts for Equipment
Keeping your equipment safe & sound. If you're looking for that extra layer of protection you may wish to discuss our Custom CNC Foam Inserts.
Unlike pick & pluck foam or generic foam linings, custom foam inserts are renowned for their exceptional durability and superior protection.
With the ability to be precisely cut to size and shape, these inserts offer a level of customization that ensures a perfect fit for your equipment. Not only do they provide maximum protection, but they can also serve as an eye-catching display.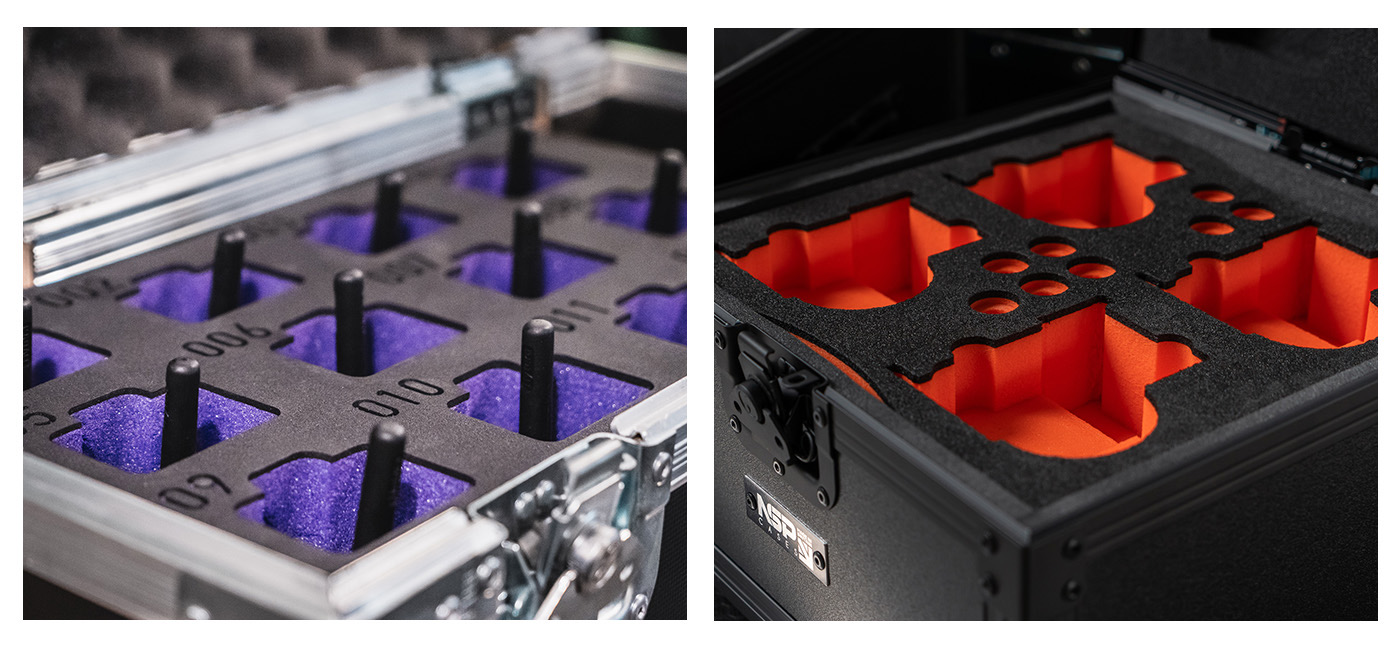 ---
Explore a Wide Range of Flight Cases
When it comes to choosing the right flight case for your needs, we offer a diverse selection of both pre-designed cases and custom-built cases tailored precisely to your requirements.
All our flight cases are proudly manufactured in our UK workshop, allowing us the flexibility to adapt to your needs and offering fast turnaround times with the highest level of craftsmanship.
Our team boasts an impressive wealth of knowledge and experience in the flight case industry. We are here to guide you every step of the way, offering expert advice on various case styles, branding options, colour choices, and more.
From delicate watches to F1 cars, we have designed and built flight cases for items of all shapes and sizes. Our cases are meticulously crafted to ensure your possessions are protected from potential damage, no matter how challenging the journey may be.
---
Elevate Your Flight Cases with Full Personalisation
When it comes to flight cases, customization extends far beyond simply adjusting the size. Nowadays, we offer a myriad of options to truly personalize your new flight cases, ensuring they reflect your unique brand and style.
One of the easiest ways to incorporate your personal touch on any of our flight cases is flight case branding.
Adding a logo, tagline and other branding elements allows you to enhance the visibility and provide a lasting impression to your customers. This is particularly helpful when using the flight case as a marketing tool.
In addition to branding, simple adjustments to the material and hardware colours can add a touch of style and practicality with this often helping identify cases by departments.
By taking advantage of these personalization options, your flight cases can truly stand out and make a statement. Whether you're using them for trade shows, presentations, or transportation, personalized flight cases elevate the overall look and feel.
---
Find your Perfect Flight Case! Thinking Inside the Box
When it comes to finding the ideal flight case, no request is too big or too small for our dedicated team. With years of experience and extensive expertise across various industries, we are the trusted experts who can guide you in selecting the perfect cases to meet your needs.
Our vast knowledge and industry insights enable us to provide valuable advice and recommendations tailored to your requirements.
Whether you're in need of a case for more delicate items or a large-scale solution for bulky equipment, we have the expertise to assist you every step of the way.
Our reputation speaks for itself, and we have earned the trust and partnership of some of the world's largest companies.
This recognition and ongoing relationships is a testament to the quality, reliability, and precision of our flight cases.
From watches and trainers to motorbikes and even aeroplane seats, we have successfully designed and built flight cases for a wide range of items. There are no limits to what we can accomplish, and we are always ready to discuss and explore innovative solutions.
---
What material are flight cases made from? Exploring Flight Case Materials and Hardware
At our UK workshop located in Kent, we take immense pride in manufacturing flight cases using only the finest materials and heavy-duty Penn Elcom hardware.
When discussing your flight case requirements, we carefully consider various factors such as size, environmental conditions, and weight. These considerations enable us to make informed decisions about the materials and hardware that will best suit your needs.
Flight Case Materials and Finishes:
The most familiar-looking material is the hexaboard finish.
This is our most popular finish due to its cost, weight and durability and made from high-quality European birch plywood.
However, there are other materials which could be more suitable depending on your situation.
An example includes our flight Panel and Ultraflite options. Used as a substitute to our plywood offering a great weight-saving alternative. On the other end, some options such as PVC Laminate and HPL offer a stronger more durable finish although heavier in weight.
Some materials also work better with our flight case branding options and can provide a better finish when used in conjunction with one another.
Hardware and Foam:
Beyond the material itself, our flight cases are equipped with heavy-duty Penn Elcom hardware. With an extensive selection of handles, corners, foam options (including custom foam) and other components, we are confident in our ability to tailor the case to your needs.
With access to thousands of parts, we are able to ensure the perfect part for the job.
---
Are Flight Cases Waterproof? Understanding Flight Case Capabilities
When it comes to water resistance and our flight cases, it is important to understand the capabilities and limitations.
Whilst our flight cases are not fully waterproof they will offer a certain level of water resistance.
In most typical scenarios, slight rain whilst you may be loading or unloading should not pose much of an issue for the case. However, it is worth noting that complete submersion of extensive exposure to the elements may affect the case's performance.
For a more waterproof flight case option, we can provide custom-made rain proof flight case covers. Custom-made to the shape and size of your case, with handle and hardware cut-outs for maximum use of the case.
As experts in the field of flight cases, we pride ourselves on understanding the limitations of our products. This knowledge allows us to provide comprehensive solutions tailored to your specific needs, including when you require waterproof cases.
This is why we are an official retail partner of brands such as Peli Case and HPRC Cases.
Peli Cases is well known for its line of watertight hard cases. Meticulously designed to not only be waterproof but also dust-proof and crushproof. Peli Cases offer paralleled protection in the most demanding environments.
---
Unlocking the Possibilities: What Can Go Inside Flight Cases?
The beauty of our flight cases lies in their versatility - they can accommodate almost anything you need to transport or store. Thanks to our in-house manufacturing facility in the UK, we have the capability to tailor our cases to a wide array of items.
Our previous portfolio showcases the range of items we have designed cases for, from delicate watches to high-performance motorbikes.
Whether the purpose is purely aesthetic or to provide protection during travel, our flight cases are designed to help.
Regardless of the value or delicacy of the items, a flight case can offer a practical and reliable solution for both storage and transit.
On top of that, If you wish to enhance the protection and organization of your case, a custom foam insert may be a worthy consideration.
Cut with pinpoint accuracy to match the exact shape and design of your items and layout. Available in a variety of colours and densities ensuring the utmost safety of your goods.
For more information on our custom foam inserts please message us today.
---
Freedom of Size: Exploring the Dimensions of Flight Cases
When it comes to flight cases size is not a factor and can be manufactured to meet your precise requirements - from a compact case to a large storage solution.
Our bespoke flight case solutions allow for maximum customisation with size being one aspect that you can tailor.
Flight Cases are perfectly sized to fit your equipment from precise Apple Cases, and musical instruments to specialised tools. Creating a case that maximises space whilst efficiently working to your convenience.
---
What is a flight case used for? Unlocking the Versatility
At the core, a flight case is a robust case designed for the safe transportation and storage of equipment. Traditionally characterized by black material and silver heavy metal reinforcements and hardware.
Long associated with live gigs and touring the demand has expanded drastically, now encompassing a wide range of industries and purposes.
In addition to the traditional usage, flight cases have also since found a popular place as props for marketing tools in events, TV Shows and more.
With the construction and ability to fully customise, they have become ideal for enhancing brand presence and catching audiences' attention. From shows to product launches, flight cases have become a go-to for displays and as a unique promotional tool
---
How heavy are flight cases? Finding the Perfect Balance.
The weight of a flight case, much like the size is a variable aspect depending on the consideration.
Factors that affect the weight include the material/finish, internal configuration, size and hardware choices/requirements to name a few.
Each of these elements contributes to the weight of the case.
Depending on your particular situation, weight can be a crucial factor in some instances, for example travelling by air, as most airlines impose a weight restriction.
However, there are options such as Flight Panel material that may be considered due to its lightweight finish. Designed with a focus on reducing weight without compromising durability and protection.
Alternatively, you may simply want to know the weight of the case for truck transportation or because of how the case will be utilized. For instance, you might prefer a case with wheels for easy mobility rather than having to carry it manually.
We understand the balance of practicality and weight and strive to design the cases to minimize unnecessary weight but we are always happy to discuss your needs to find a solution.
---
How do I purchase a flight case from NSP Cases? Your Journey With Us
We strive to make the purchasing process from us as easy as possible. Whether you are interested in a predesigned case or a custom case tailored to your specific needs.
We offer thousands of pre-designed flight cases on our website which cater for popular items such as mixers, Apple products and music equipment, among others.
In addition to that, our range extends to Road Trunks, Racks and Screen Cases with varying options to suit you.
However, we do understand that every situation is unique and a predesigned case may not quite meet expectations. Here is where you can reach out to one of our dedicated sales team who are here to assist every step of the way.
+44(1622) 724900
[email protected]
---
Are flight cases expensive? Affordable Pricing without Compromising Protection
At NSP Cases, we understand the importance of delivering exceptional value to our customers. That's why we strive to offer competitive prices on all our flight cases, without ever compromising on the protection and quality of our products.
We believe in transparency and provide clear pricing on pre-designed cases and collections such as Road Trunks. This allows you to easily assess costs, lead times and options.
However, when it comes to custom flight cases, we see that every project is different and unique.
With this in mind, we take careful consideration when discussing your needs including materials, branding and other aspects which may affect the cost to tailor a price for you.
---